Tasha has an amazing, intuitive feel of the horses she works on. Her ability to read their responses to her touch truly enhances her ability to achieve full body relaxation and muscle release. I've used many equine body workers in my 25+ years  as a horse trainer, and I put her at the top of my list for her ability to improve the horse's total well being. Every horse she worked on at my facility improved in self-carriage and relaxation under saddle.
Wendy Wiebenson, owner, manager, lead trainer at EquiSpirit Farms, Pleasant Hill, OR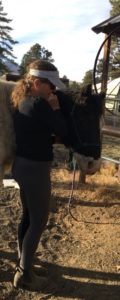 Kathy Oliver, Director of Sacred Peaks Equine Sanctuary, Flagstaff, AZ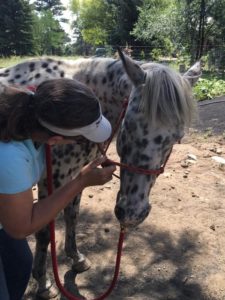 "It is important to me that I give my rescue horses excellent care and set them up to be happy and successful. When checking them out for physical issues, my "go-to" body work practitioner is Tasha Kline. I am confident in her ability to access the horse's entire body and uncover issues that may not be readily apparent. She is very patient and thorough…always giving the horses the time they need to release and move through the process. Tasha has worked on many of the horses here at the rescue, and without a doubt each one has benefitted from her services."
Photos by Kathy Oliver
When I am choosing a practitioner to work on my own horses I want someone who excels at "reading" horses, is sensitive to their responses, and allows them to feel safe and be able to trust and relax with the protocol. Tasha excels in all these areas. She is patient and gentle and is attuned to the responses of the horse. I have seen her work on several horses with difficult problems and she was effective in helping them all be more comfortable, and some even had a remarkable immediate transformation in the way their body moved and their gaits.
Gail Anderson, horse owner and volunteer coordinator for horse health/care practitioners in northern California